To encourage people to minister Christ Jesus to each other and the world by being the hand of God.
Exciting service is coming up on Saturday, January 23rd at 6:30 pm. All are invited to come as we stand in agreement together.
There are so many of us right now who are struggling with receiving our healing to the fullest. Come as we agree with each other for physical, spiritual, and emotional healing.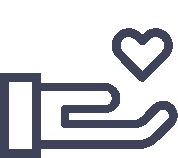 "Whoever is kind to the poor lends to the Lord,
and he will reward them for what they have done."